Our mission is to get more people on bikes.
And electric bicycles make it easier.
Corvallis Electric Bicycles LLC was started by Jeff Hallman and Chris Gould in spring 2018 and opened shortly after in July. We live, play, and work in Corvallis. We use bikes for transportation, exercise, exploration and fun.
We believe the bicycle is the greatest invention ever and is the most efficient form of transportation. By combining the digital world of electronics and the analog world of bicycles, the perfect storm of mobility is now available to get around with this beautiful thing called an e-bike.
Our vision is to see more people in Corvallis using bikes to get around. We offer support in finding the best electric-assist bicycle to make it comfortable and fun for you to go places or haul stuff (or kids) without breaking a sweat. E-bikes make it a lot easier and cheaper than driving a car...just let us show you!
We service ALL bikes.
We don't just sell electric bikes. We have decades of experience as bicycle mechanics, along with many hours of training and certifications. We're members of the Professional Bicycle Mechanics Association (kind of like the ASE for cars). We're certified Shimano and Bosch technicians. Our goal is to offer quality service and repairs for your bike. We're keeping our training up-to-date with seminars and clinics as they are available.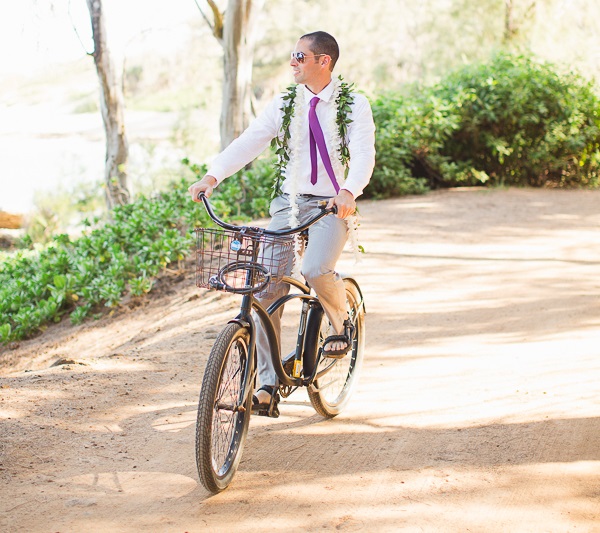 Jeff is a former engineer who started working in bike shops in 1997.
Jeff started wrenching on bikes as soon as he could ride one, using his father's vast collection of tools. Riding bikes as a kid gave him freedom to travel and he had to keep them maintained if he wanted to ride. His first real job in a bike shop was 1997 during his freshman year in college while pursuing his degree in mechanical engineering.
After graduating with a mechanical engineering degree from Florida Tech in 2001, he went off to the corporate world and worked as an engineer up until 2015. Playing with robots and machines sure was fun! During this time he earned a Master's in mechanical engineering and continued being involved in the bicycle industry by volunteering his mechanic (and web programming) skills with local non-profit organizations such as ReCycles McKinney and DIY Bikes. He also raced mountain bikes with Big Pig Racing, was a trail building "Superdude" with DORBA, and was vice-president of the cycling advocacy group West Seattle Bike Connections.
He completed the bicycle maintenance, professional repair and shop operation courses through United Bicycle Institute in 2011, is a member of the Professional Bicycle Mechanics Association, and has certifications through Light Electric Vehicle Association. He has always been attached to the bike industry and believes in continuing education to keep up with everything bike related.
In 2015 Jeff and his family ended up in Corvallis for a relaxing, peaceful, and community-focused lifestyle at CoHo Ecovillage. He started Corvallis Mobile Bike Repair in 2015 and Corvallis Electric Bicycles in 2018. Look for a merging of these two businesses in the future. Jeff loves the cycling community in Corvallis and wants to help get more people on bikes any way that he can.
Jeff prefers face-to-face interactions, but feel free to email him directly with any thoughts, questions, or concerns about biking:
jeff@corvalliselectricbicycles.com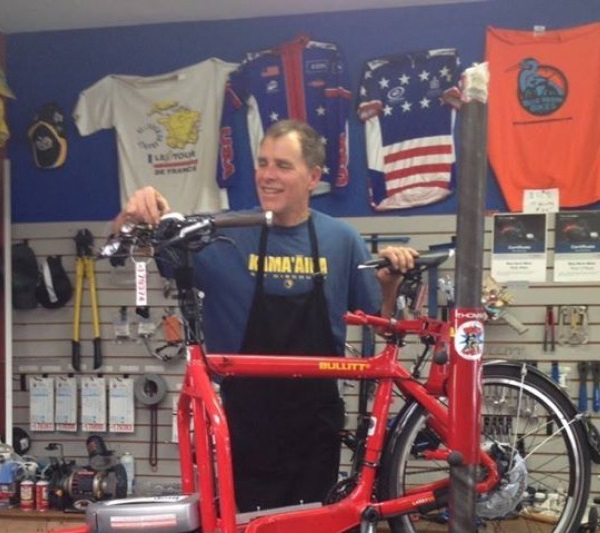 Chris is a veteran who's been working on bikes for decades.
Chris Gould is also a graduate of Florida Tech and has the same mechanical engineering degree as Jeff, but graduated 20 years earlier just before his military service. As a baby boomer he's enjoying electric bikes coming of age after several years of racing and working in pro bike shops worldwide.
Chris is an alumni of Blue Heron Bikes in Berkeley where he joined the electric mobility expansion. He's worked in bike shops all over the world, at places including California, Florida, Hawaii, and Thailand.
Volunteering with the Bay Area Outreach & Recreation Program (BORP) showed Chris that adapting electric assistance to bicycles is great for those with physical limitations.
Chris finished every single Shimano T.E.C. (Technology, Education, Certification) training module in early October 2018. And there's over 170 modules! He knows Shimano stuff now.
These days Chris & family live in NW Corvallis near the shop and he enjoys riding the huge miles of available road & gravel nearby. You'll find Chris wrenching on bikes at the shop during business hours and can be emailed directly at:
chris@corvalliselectricbicycles.com