We're a family-owned business that lives in Corvallis.
Part of our business plan included promoting family cycling. This means using bicycles to haul kids around. We've done a lot of riding around Corvallis with our daughter since she could fit in a child seat on a bike, mostly using a regular bike. We've been using a trailer for the last couple of years.
Corvallis is mostly flat and is pretty easy to haul a trailer on a regular bicycle. But as kids grow (and get heavier) it gets harder to pull a trailer with a regular bike. Sometimes our load doesn't just include a kid, but books and groceries.
It's so much easier to haul a loaded trailer with an electric bike.
We've come to appreciate how much easier it is to haul a loaded trailer around town using an electric bike. It's hard to go back to a regular bike now!
If you want to see what it's like pulling a trailer with an electric bike, we have a demo Kalkhoff Voyager setup to pull various Burley trailers that we stock. We even have a rental Burley trailer if you want to take it for the day!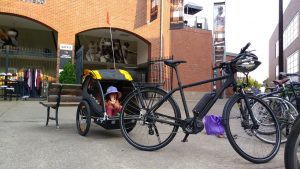 We're a little nutty with helmets.
We tend to forget that riding bikes should be fun as we get older. The Nutcase helmets we have are intended to remind you to have fun on a bike, and we've got a great selection on youth helmets. Remember that Oregon state law is anyone under 16 years of age is required to wear a helmet when riding a bike.